Unbreakable Kimmy Schmidt Season 3 Episode 5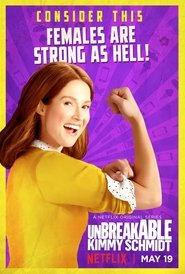 Unbreakable Kimmy Schmidt Season 3 Episode 5
The FBI enlists Kimmy's help when former mole woman Gretchen tries to start a cult of her own. Titus is stricken with a strange disease.
Views: 167
Serie: Unbreakable Kimmy Schmidt
Director: Jeff Richmond
Guest Star: Adrienne C. Moore, Bridger Winegar, Daniel Breaker, Drew Beasley, Harris Yulin, Josh Charles, Lauren Adams, Matt Oberg, Michael Warmoth, Ndeye N'Diaye, Oliver Gifford, Osh Ghanimah, Peter Riegert, Phyllis Somerville, Sara Chase, Sebastian Martinez, Sol Miranda, Steve French
Episode Title: Kimmy Steps on a Crack!
Air Date: 2017-05-19
Year: 2017