Unbreakable Kimmy Schmidt Season 3 Episode 8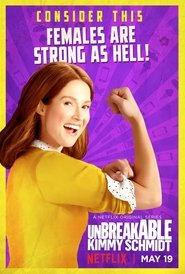 Unbreakable Kimmy Schmidt Season 3 Episode 8
Titus makes a shocking confession about the cruise. When a hurricane hits, Kimmy turns their apartment into a "fun-ker" filled with games and puzzles.
Views: 89
Serie: Unbreakable Kimmy Schmidt
Director: Beth McCarthy-Miller
Guest Star: Ashley Arcement, Emily Hsu, Erika Longo, John Lutz, Kenneth Crutchfield, Maya Rudolph, Molly Tines, Olivia Khoshatefeh, Peter Riegert, Rachael Meyers, Sara Kay Marchetti, Sarah Marie Jenkins, Sonya Harum, Therese Boyich
Episode Title: Kimmy Does a Puzzle!
Air Date: 2017-05-19
Year: 2017