Unbreakable Kimmy Schmidt Season 3 Episode 9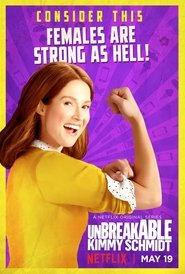 Unbreakable Kimmy Schmidt Season 3 Episode 9
Titus takes Kimmy to church on Good Friday, where they tangle with an elderly busybody. Jacqueline gives Lillian a makeover for Passover.
Views: 133
Serie: Unbreakable Kimmy Schmidt
Director: Jaffar Mahmood
Guest Star: Alexis Batten, Alicia Harding, Anna Camp, Fran Jaye, Germar Terrell Gardner, Ivan Moore, Katreese Barnes, Lizan Mitchell, Michael Benjamin Washington, Miriam A. Hyman, Neil Hellegers, Robert Siverls, Rosalind Brown, Tanner Flood
Episode Title: Kimmy Goes to Church!
Air Date: 2017-05-19
Year: 2017